Branch State of the Business, Part 3
When Branch Adds Partners, We All Win
Part I: Geographic Expansion — A True Growth State of Mind
Part 2: Bundles of Bundles — Super Speed + Big Savings
At Branch, we believe insurance can be a force for communal good — and that our partnerships should work that way, too — making life easier, more convenient, and, ultimately, more affordable for us all. 
That's why we're proud to partner with trusted brands who, like Branch, work hard to lower the cost of home and car ownership for their customers. 
Before introducing the newest partners we've teamed up with in 2021, let's take a moment to recognize our complete partner roster: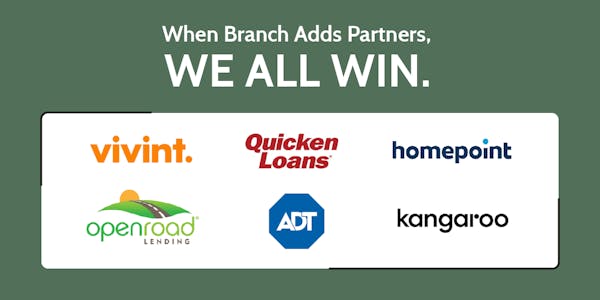 That's a verified list of industry leaders and forward thinkers — from home mortgage to auto solutions to home security. And beyond.
First, a little context. Why are our partners so important to Branch?
Buying insurance isn't like buying other products. People buy insurance because it's a requirement for another purchase. You could say that insurance is like the batteries to a toy you got when you were young, but they weren't included. Only to buy insurance, you have to go to a different store and pay way more than you should.
Our partners enable us to do things differently — meeting people where they are — with insurance embedded into the transactions that require insurance in the first place. Applying for a mortgage. Taking out a loan on a car. Investing in ways to protect their home. You might say, we're including the batteries to those toys. 
When we offer Branch through our partners, we're a timely, affordable solution in the precise, real-life moments when people are actively looking for insurance. Branch becomes the clear choice. A simple add-on. A price and the click of a button. 
Because insurance has never been truly available at the moment you need it, traditional insurance has  been wildly inefficient and way too expensive.  Branch isn't. 
🤝 Branch is a better partner for partners, too. 
That's because Branch is the only home and auto insurance platform built for seamless integration. No other insurance company in the world can price and bind home and auto insurance with just a customer's name and address. Armed with this superpower, we're able to deliver bundled and standalone policies that can be purchased in seconds. It's the first-ever frictionless insurance — for our partners, that's effortless loyalty, revenue, and growth.
Our automated, digital application embeds into the signup processes our partners already use through an easy-to-use API.
So customers get the savings they're looking for without having to navigate anywhere else. This helps partners close business faster, retain customers longer, and create more consistent revenue opportunities with higher retention rates.
In 2021, we welcomed huge new partners and exclusive discounts for customers.
This year, we were thrilled to add Homepoint, one of the country's leading mortgage originators and servicers — with a nationwide network of more than 8,500 mortgage broker and correspondent partners — to our partner portfolio. With Homepoint, we're able to help people get home insurance faster and save money by offering instant home insurance as they complete the mortgage process. Plus, it's easier than ever to bundle in car insurance which is helping Homepoint customers save even more!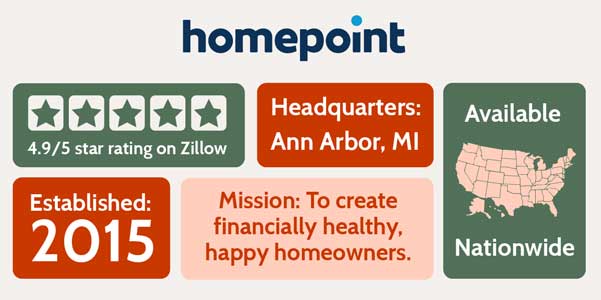 We've also brought award-winning home security company SimpliSafe into our partner network. With SimpliSafe, we're able to help our members get discounts up to 15.5% on their home insurance by protecting their home with a professionally monitored SimpliSafe system. We offer new members who sign up for SimpliSafe a free seven-piece SimpliSafe home security system and a free month of full-service security with professional monitoring.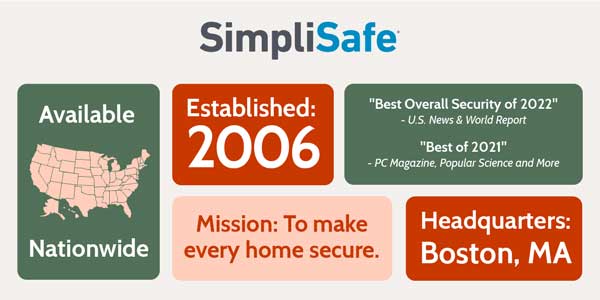 👍 In the end, it's the customer who wins.
As we continue to expand partners in 2022, the strength of our partnerships doesn't just help us lower the cost of insurance premiums for our members — passing along the savings we get from meeting new customers more efficiently — it does so much more than that.
It lets us provide instant insurance upfront, no more surprise changes in insurance quotes that mess with mortgages or auto loans — making it harder to afford that new ride or dream home.
It results in lower costs of home ownership, car ownership, as well as the total cost of protecting these investments. 
So thank you once more to every Branch partner for your part in our mission: to make insurance less expensive, so more people can be covered. Together, we're making the rest of everyday life a bit less expensive, too. 
NOTE: Check back for Part 4 on the launch of our Independent Agent channel and how Branch is making life as easy for insurance agents as it is for our members.