Myles Garrett Teams Up With SafetyNest by Branch Insurance
NFL Superstar Joins the Fight Against Uninsurance in the U.S.
Myles Garrett, a top defensive end and Cleveland Browns superstar, has officially partnered with SafetyNest, a 501(c)(3) nonprofit organization chartered and funded by Branch Insurance, to tackle the financial exclusion problem in insurance.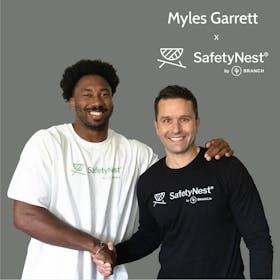 What does that mean?
The insurance industry is broken. Complicated policies, rising costs, and marketing warfare have made car insurance way too expensive. When insurance is too expensive, people go unprotected. At Branch, we're working to fix that, but we can't do it alone. That's why we created our nonprofit SafetyNest to combat uninsurance in the U.S., which affects about 1 in every 8 drivers!
How did the problem get this bad?
When you consider that fewer than 4 in 10 Americans have $1,000 in savings, you can begin to understand why car insurance might take a backseat to other more important expenses. Driving uninsured is a huge risk that can lead to fines, license suspension, or in the case of an accident, financial devastation. At Branch, we believe no one should have to choose between being protected and putting food on the table. So we've teamed up with Myles Garrett to fix that.
How can we fix it?
Myles, who is already an active member of the Cleveland community, has joined the fight against uninsurance by partnering with SafetyNest. Through Myles' advocacy, Branch and SafetyNest believe we can bring awareness to the issue that silently affects so many people. And you can help too!
Grab a quote for home, car, or bundled home and car insurance with Branch today. All it takes is your name, address, and about 30 seconds! When you get a no-obligation price, you'll receive a $10 gift card from Branch and Myles will donate $25 to SafetyNest so it can continue providing programs, education, and research to better understand and solve the uninsurance problem. If you join Branch, you can feel good knowing that you are helping those who are un- or underinsured get the coverage they need.